Analysis finds CodePath.org's Virtual Career Fair is helping accelerate minority engineering recruitment at major tech companies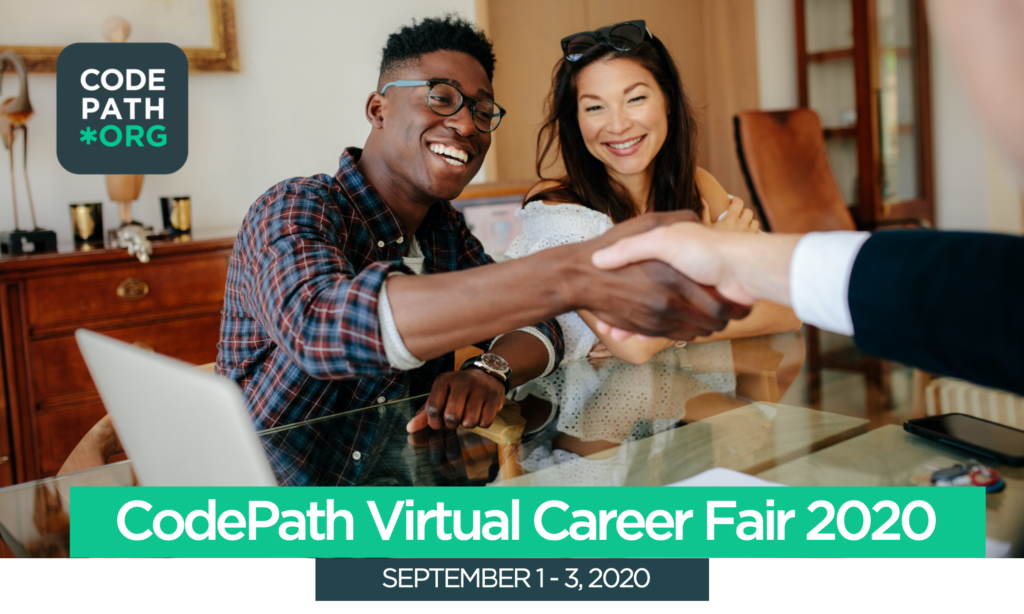 CodePath.org, the national nonprofit that is working to close equity gaps in technology through free computer science courses, today announced that Black and Latinx computer science students who participated in its 2019 Virtual Career Fair were almost four times more likely to land technical work experience than their national peers, making CodePath one of the top sources of underrepresented tech talent in the country. The nonprofit also announced that employers are now able to sign up to participate in this year's Fair, which will take place from September 1-3, 2020.
CodePath.org runs free computer science courses, developed in partnership with top technology firms, for college students; after completing their courses, students are matched with recruiters for interviews at the Virtual Career Fair based on performance, interests, and experience. An analysis of 160 students who participated in the 2019 Virtual Career Fair found that 43% of Black and Latinx students received technical job or internship offers, as opposed to 16% of Black computer science graduates and 12% of Latinx graduates nationally. In addition, 35% of first generation students who participated in the 2019 Virtual Career Fair received technical work experience.
"The typical tech recruiting process is so isolated — so concentrated on a few elite programs — that many tech employers never even meet the vast majority of Black, Latinx, low-income, and first-gen talent. That's bad for underrepresented students, bad for the tech industry, and bad for everyone who uses technology," said Michael Ellison, co-founder and CEO of CodePath.org. "This model is proving that tech employers can build up a thriving base of diverse talent if they just invest in students outside their inner circles."
The nonprofit also released its Summer 2020 Impact Report, which looks at the outcomes of more than 1,700 students, hailing from a diverse range of backgrounds and higher education institutions, who completed CodePath's courses or leveraged the Virtual Career Fair platform to connect hiring managers from major technology employers over the past year. According to the report:
65% of recent first-generation CodePath students are working as full-time software developers/engineers or interns
588 CodePath.org students received technical internship or full-time job offers after completing the course. 41% of those job offers came from Fortune 1000 companies, while 12% came from the top-five tech companies: Facebook, Amazon, Apple, Netflix, and Alphabet
59% of women in CodePath courses landed technical work experience
37% of students with no prior technical work experience received their first internship/job after taking a CodePath course
88% of students agree their CodePath experience increased their likelihood of graduating with a technical computer science degree
93% of students agree their CodePath experience improved their perception of working in the tech industry
While the tech industry is facing a 500,000 worker talent shortage, just 7.4 percent of industry employees are African-American, 8 percent are Latinx, and 16 percent are women. CodePath.org works to close these gaps by providing free, industry-aligned software engineering training to underrepresented students and connecting them with tech recruiters.
"So many students go into technical interviews without ever learning many of the concepts they'll be asked about. The groundbreaking success of our model shows that the tech industry's equity gaps don't come down to lack of talent; they come down to lack of preparation and resources," said Ellison. "It turns out, when underrepresented students have access to high-quality, engaging, industry-relevant instruction, and then get a chance to show their skills to top tech companies, they actually receive job offers at a much higher rate than pretty much any other applicant pool."
Now in its fourth year, the Virtual Career Fair allows students enrolled in CodePath.org's software engineering course to engage in live interviews with some of the tech industry's top companies. Seventy percent of participating students are underrepresented minorities or women—representing more than 100 colleges across the country, including Howard University, Mount Holyoke College, the University of Texas and Purdue University. Companies participating in and hiring candidates from CodePath.org's 2019 Virtual Career Fair include Lyft, Intuit, and Quora.
The 2020 Virtual Career Fair, which will occur from September 1 – 3, is currently open to employers looking to connect with diverse, highly prepared talent. Recruiters can find more information at https://info.codepath.org/vcf.