Veteran of Upworthy and Vimeo will help CodePath.org scale operations to deliver free, employer-backed coding courses to 150 new college campuses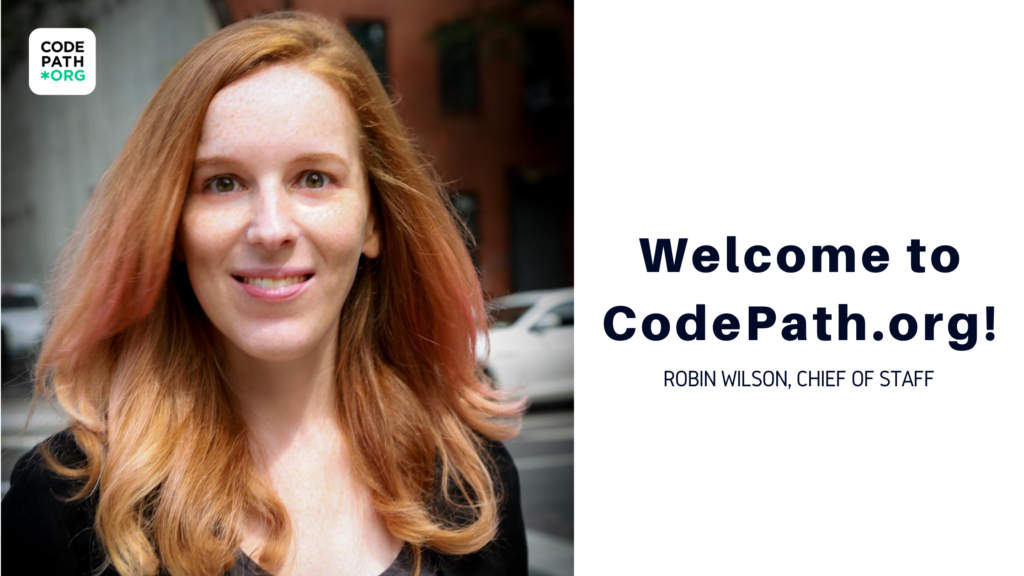 CodePath, a nonprofit working to expand the pipeline of women and students of color equipped to thrive in technology industry careers, announced that it has expanded its leadership team with the appointment of Robin Wilson as its first-ever chief of staff. Wilson's new role will enable CodePath to maximize its internal capacity over the next two years, as it expands its free course offerings to 150 new campuses, with the goal of preparing 7,000 undergraduates from historically-underrepresented backgrounds to secure and excel in technology careers.
"From injustice in our communities, deep economic anxiety and uncertainty around the future of college campuses, it has never been more important that we break down barriers preventing underrepresented students from accessing opportunity, influence and power," Wilson said. "I'm thrilled to join the CodePath team in this effort to leverage the power of technology for real social impact at scale."
With experience leading operations at technology and social impact startups, Wilson brings extensive experience in organizational strategy and growth. She most recently held the role of chief operating officer at Upworthy, the social impact content and publishing company, whose signature "Stories Worth Sharing" series reaches 100 million viewers per month. There, she led operations and managed core functions of business, including finance, legal, HR, growth and revenue, as the company grew to more than 100 employees. Prior to Upworthy, Robin led revenue operations for two digital content companies—Vimeo and Blip, a digital video network and distributor.
"After five years of rapid growth — from a tiny organization running courses on a handful of campuses to the largest provider of computer science education for Black students — CodePath is now focused on comprehensively transforming computer science education. That's why we need a top operations leader like Robin, building the systems and practices we need to maximize our impact," said Michael Ellison, founder and CEO of CodePath.org. "We know that Robin's incredible experience building operational strategies at top tech firms will be a tremendous asset."
CodePath is empowering women and students of color to land competitive tech jobs through its free, open-source coding courses, which emphasize student engagement and support, alongside content knowledge and training on recruiting and technical interviewing. Data from a recent CodePath cohort found that students were approximately three times more likely to receive a technical job offer after completing the program than if they had applied through companies' standard recruiting process.
Visit CodePath/classes to see current course offerings or to learn more about bringing CodePath to your campus.