CodePath is proud to offer our free, industry-backed software engineering courses to 765 students, 95% of whom are underrepresented minorities or women, this summer.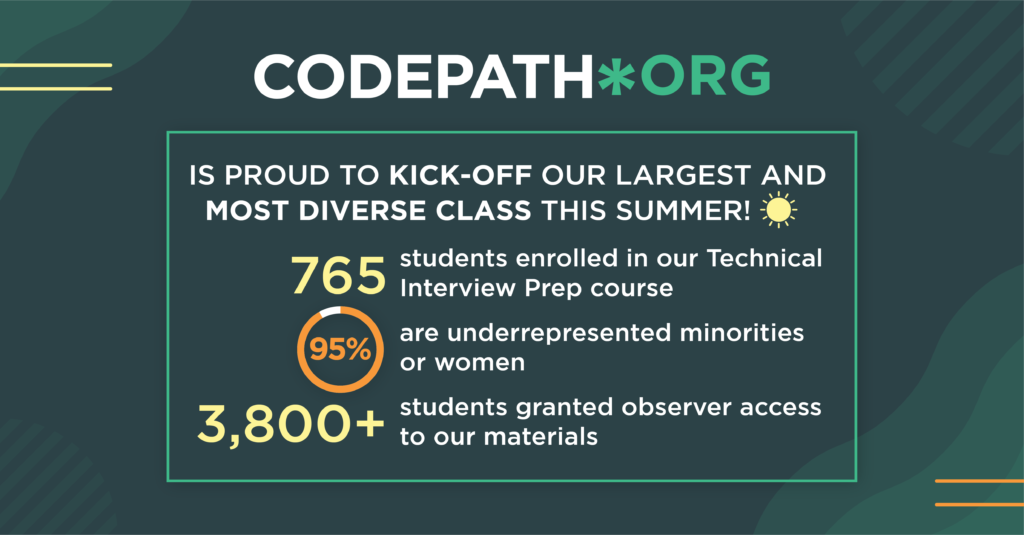 CodePath, the nonprofit working to transform computer science education for underrepresented students, today announced that it has welcomed its largest, most diverse class of students ever for its summer software engineering courses. In response to the COVID-19 crisis, which has forced many college students to cancel planned summer internships or learning opportunities, the nonprofit expanded its capacity in order to serve 765 students, three times as many students as participated last summer.
CodePath's software engineering courses, designed in concert with top engineers, include rigorous instruction, personalized support, mentorship, and career preparation services. Free for students and their universities, the courses open up career pathways for students on campuses that are typically overlooked by industry recruiters.
"The past few weeks have made it clear how many unjust, unacceptable barriers still prevent Black and Brown people from accessing opportunity. We want to ensure underrepresented computer science students know they can excel, believe they deserve a seat at the table, and unapologetically claim their influence," said Michael Ellison, founder and CEO of CodePath. "We pushed to triple our capacity this summer to fill gaps left by cancelled jobs and internships—but also because we believe it's never been more important to empower underrepresented students to assert their talents."
This summer's cohort, which began instruction on June 6, 2020, is 30% Black, 17% Latinx, 69% women and 47% first-generation college students. Students, who hail from 248 college campuses, will participate in 12 weeks of virtual instruction. In addition, for the first time ever, a further 3,800 students will be able to access the full suite of course materials as observers, enabling them to leverage CodePath's lesson guides, video lectures, projects, and more for independent learning.
Black, Brown, and low-income students are less likely to have access to computer science classes in grade school, know professional engineers, or find industry role models that reflect their own backgrounds. Those who study computer science in college encounter daunting, heavily technical coursework that often convinces less experienced students to drop the major. Those who graduate from computer science programs often find that top technology firms only recruit from elite campuses. As a result, while the tech industry faces a severe talent shortage, many underrepresented students are shut off from tech career opportunities.
CodePath is working to rebuild this system by scaling free courses meant to engage, motivate, and inspire college students from any background or experience-level. All students who participate are paired with industry mentors, regularly network with professional engineers, and close out the course by interviewing with potential employers during CodePath's virtual career fair.
"Black, Brown, low-income, and women students are not underrepresented in tech because they're not capable; they're underrepresented because the system was not built for them. For years, we've tried to figure out how they can adapt to the system. It's time for the system to adapt to them," said Ellison. "We are so excited to see how this summer's students make their mark on the industry."