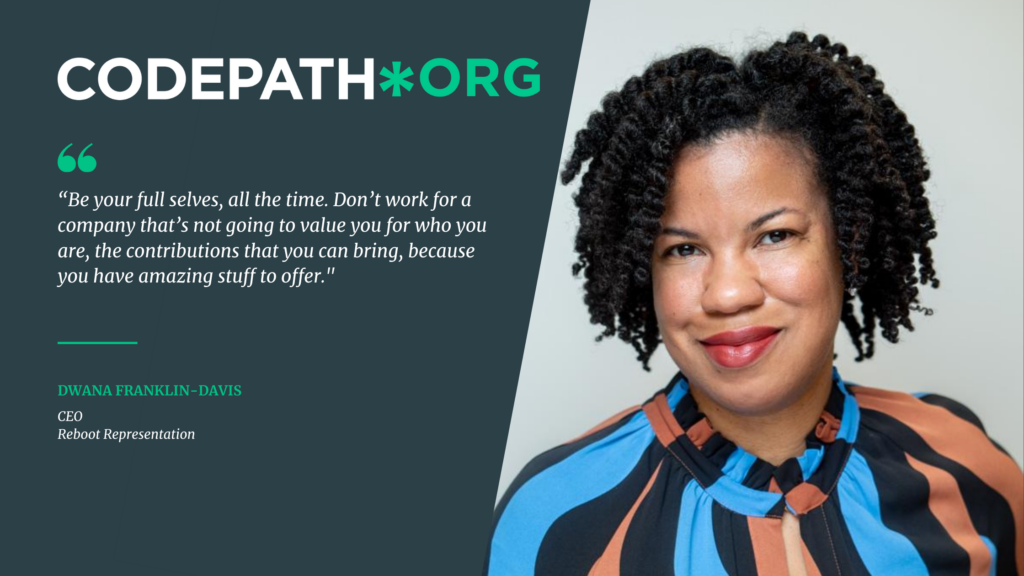 CodePath.org is proud to present a curated series of fireside chats with leading African American technology, venture capital, non-profit, and entrepreneurial leaders. Designed specifically for our students, these discussions were hosted throughout the summer of 2020. This is an interview with Dwana Franklin-Davis, CEO of Reboot Representation.
Dwana Franklin-Davis knew from a young age that she wanted to be involved in the tech industry. "I was exposed to tech at a very early age and I thought that that was normal, because that was just what my family did," she says. "It was when computers were not even a thing, and people necessarily have them in their homes. We had multiple computers in our homes, because my father would build them." 
Perhaps Dwana Franklin-Davis even had a premonition of the kind of work she would go on to do. "[My father] was very active with the Boy Scouts, and [he] started a Boy Scout troop at our church. And one of the missions that he had [was to make] sure that all of those boys, who were all Black and Brown boys — they learned how to build their own computers, and they each got to take them home, and that was the first computer that most of them had in their home. So all of that type of stuff was normal to me." 
What Dwana Franklin-Davis likely did not know was how involved she would become in the tech industry, and moreso, how she would impact Black and Brown lives in the tech industry. She is now the Chief Executive Officer of Reboot Representation. She is a visionary, a collaborative and compelling executive leading the Tech Coalition in closing the gender gap in tech. Her goal is to double the number of Black, Lantinx, and Native American women earning bachelor's degrees in computing by the year 2025. 
While that goal may sound impossible — or, at the very least, immensely difficult — for a number of reasons — many of them stemming from the systemic inequity gaps, many of them variables which are out of Ms. Franklin-Davis' control — once you have the opportunity to listen to Dwana Franklin-Davis, once you are in the presence of her absolute and actionable conviction, that goal suddenly appears very achievable, or even inevitable.
Lucky for us, we did have the opportunity to listen to Dwana Franklin-Davis, and want to share just a few of the wise, funny, timely, and important things she had to say. 
On getting tech internships while you're in college 
"The first internship led to the second internship, if that makes any sense," Franklin-Davis begins, and frankly, once you hear the rest of her story, it makes a lot of sense. As a freshman in college, Franklin-Davis was very involved and did well in her classes, but, as she puts it, "that's kind of a basic and a given." She met those minimal requirements, and then did more. She went beyond the basics. "The guidance counselors in the science department knew me, and so I was making them aware of what I wanted to do, and what my interests were, and things like that. So when IBM called the guidance office and said, 'we're looking for students,' I was top of mind." Then, in her sophomore year, when she was finding it difficult to secure a tech internship, she was able to reach out to her old boss at IBM. As she tells it, "because I did so well on my first internship, I built this network with the people at IBM, and I maintained the relationships. It wasn't a big deal for me to call them back and them be like, 'of course, come back.'"  
Maybe that's why one of her biggest pieces of advice to college students is to be present. Make yourself known, and begin building your network from your first day at college. Build authentic relationships with your professors, your counselors, guest speakers you admire, presidents of student clubs, alumni, and so on. Find your tribe, and then put effort into solidifying those connections.
On building your career board: coaches, mentors, and sponsors
When the going gets rough, because it will get rough, Franklin-Davis wants you to have those relationships for a reason. Lean on your support network. Whether you're experiencing microaggressions in the workplace or struggling with feeling isolated at college, Dwana Franklin-Davis says, "your mentor, your coach, or sponsor — those should be the people that you most certainly feel comfortable talking to."  
So what's the difference between coaches, mentors, and sponsors? Franklin-Davis explains, "when you think of your coaches, think of those like your sports teams. Those are the people that are cheering you on, and they've giving you the advice; they're, you know, shouting for you from the sidelines. Your mentors are, [sic] in my opinion, they get more in the weeds with things. You have [a] more personal relationship. They are giving you that go-to guidance. Your sponsors are the ones — if you think about it, who is speaking on your behalf when you're not there? Who is your champion behind closed doors? [Who is] recommending you for the next opportunity, recommending you for that international job, recommending you for the promotion?"
And why is it important to build and maintain these different types of relationships? Because each role, each person, can serve you and your career in different ways. But this kind of intentional relationship-building doesn't happen overnight. You have to seek out the right people, take your time to invest in the connection, and work hard to build a strong alliance together. And, at the end of the day, it's not all about you. Franklin-Davis adds, "It has to be two-way. It has to be reciprocal." 
On doing more, being more, achieving more
Franklin-Davis is successful. That's clear. But one thing she also makes clear is that there is a learning curve to success, and she's transparent about the fact that being successful has not been an easy journey for her. In college, for example, she actually switched majors from computer science to business, and had she known more about what she could do with a CS degree, she "probably would've stuck with it." Yet through those setbacks, she developed and built a criteria for success, and it's a method so foolproof that we'd feel guilty if we didn't share it with you. 
"It's the — what I like to call the 'what else'," Franklin-Davis says. "Like many minorities, many first-time students, many immigrants, you're told by your family to work hard, and I did that. My grandmother was always like, 'you know you're Black, you ought to work three times as hard as everybody else [just] to be seen on the same level. So I worked hard, but I quickly realized that working hard is not enough, because everybody works hard….it's not enough to just do your job; you're expected to do your job [and] you're expected to do a good job at your job."
So how did Franklin-Davis succeed? "It's the, what I like to call the 'what else.'…What else are you doing that sets you apart? What else are you doing to add skills to your toolbox? What extra projects have you volunteered for, what leadership opportunities have you taken advantage of, and are you displaying those leadership skills, and in addition to that: and what else?" 
It's also important that you're not just doing, as though you exist within a vacuum. You need to be doing, and you also need to be seen doing. Franklin-Davis says, "Who knows about it? ….It's not enough for your boss to know about it, or your professor to know about it. In a work setting, do your boss' peers know about? And [who] else across the organization? ….That is what helped me to move and rise throughout all of the organizations that I've been a part of." 
On the one major thing Dwana Franklin-Davis wants you to know 
"Be your full selves, all the time. Don't work for a company that's not going to value you for who you are, the contributions that you can bring, because you have amazing stuff to offer. Know that you're not in it by yourself, so [sic] build your network, first of all, and then leverage your network to help you get through the tough parts." Franklin pauses, "It's crazy times we have right now, but you guys will have….you always have your education to fall back on, can't nobody take it away from you, so finish, finish, finish strong." 
We really couldn't have said it any better than that.