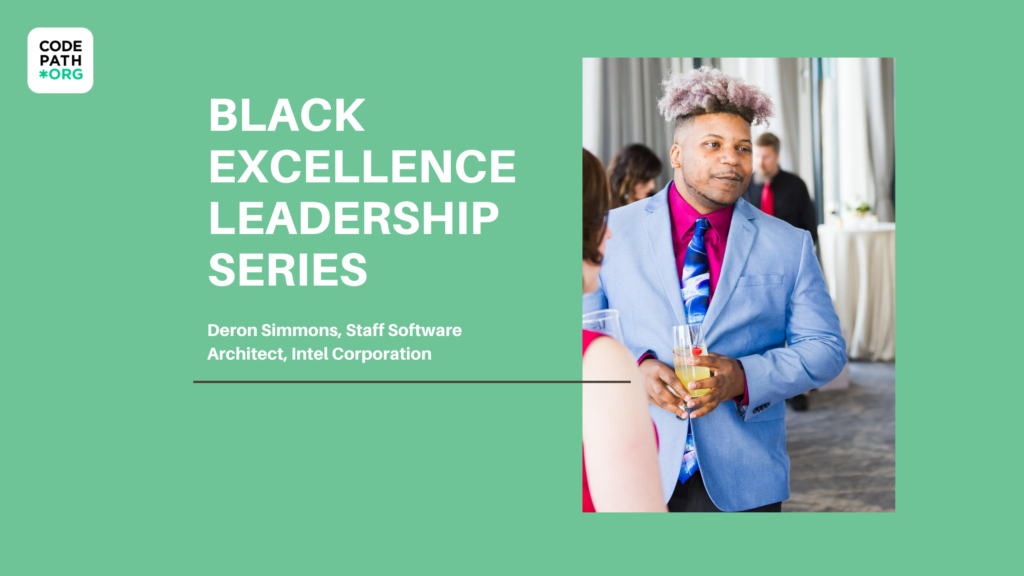 As part of CodePath's Black Excellence Leadership Series, Deron Simmons, Staff Software Architect at Intel speaks to the Summer 2020 class about diversity, career, and creating change in the industry
CodePath.org is proud to present a curated series of fireside chats with African American leaders in technology, venture capital, non-profit, and entrepreneurship, to empower our students to succeed in their tech careers. This July, our team and students had the chance to sit down with Deron Simmons, Staff Software Architect at Intel Corporation.
Deron's journey in tech started at a young age with a straightforward problem – access. As a child, Deron grew up with limited financial resources. Deron's parents saved up for months to purchase their first family computer to help him keep up with the demand of school. This support was short-lived as an accident left the family without a computer and access to technology. Through the years, his family would save only to have their computers break after a few months. At his young age, Deron realized…
"We put so much into these machines for the opportunity for better education, yet they don't work."
At that moment, Deron set out to find how machines work. He hoped that technology could be a gateway to freedom for his community. Deron joined Intel in 2010 and has traveled globally, integrating software and services for various municipalities. He has built over 50 production applications in 20 different software languages. From 2017-2020, he was a software engineering professor at the University of Arizona. As a Staff Software Architect, Deron spent his days building machine learning apps to remove bias from retention progression hiring and exits.
With passion and enthusiasm, Deron sat down with CodePath's students to talk about diversity, career, and creating change in the tech industry. Here are some key insights to share with your colleagues and friends:
Be yourself. Your unique qualities will help you succeed.
Sporting his signature brightly colored, naturally kinky hair and a large smile, Deron told students to be proud of the qualities that make them unique. As a Black man in tech, Deron has faced many challenges that could have deterred him from succeeding. One of his most significant setbacks was a false arrest in 2014. Police falsely held Deron in custody for 30 days. Based on the outcome of this event, Deron told students to never give up. Their Blackness or unique qualities would follow them wherever they go, but it can not stop them from achieving their goals. He followed up by urging students to protect their reputation. Deron was able to maintain his life because he developed a circle of colleagues and friends who genuinely believed in him. Also, he stated that most companies are looking for candidates who can bring a unique spin to their work. Candidates from a diverse background also carry a different mindset that can help the company achieve goals.
Do not let fear allow you to stay in your comfort zone. Be willing to fail.
People of color often face glass ceilings that prevent them from reaching executive-level positions. To rise above the glass ceiling, Deron encourages students to never say no to opportunities. At the beginning of his career, Deron stayed focused and offered to help with projects that were not directly related to his job title. By succeeding at a higher level, people will recognize you as an initiator and problem solver. Deron expressed to students the importance for minorities to have a mindset of failing forward. Many minorities do not want to pursue opportunities that may seem above their skill set. Do not let fear force you to succumb to your comfort zone.Taking on additional tasks may open you to other networks and opportunities. Deron took a project that was rejected by others in his company. Because of his willingness to participate in this project, Deron delivered the project successfully, and was rewarded with being able to attend the All-Star Game and Superbowl, while expanding his network of supporters and allies.
You can drive change by opening up the door for conversation.
In these unprecedented times, it can be challenging to have conversations about race with your peers. Although difficult, these conversations have the potential to ignite change in your work and community. Deron managed to create a safe space at Intel by staying authentic to his true self and building meaningful relationships based on trust. It is essential to have respectful conversations with peers. To do so, he says that you must be true to who you are. People are more receptive to others who are genuine in expressing what is in their hearts. Second, you must be willing to invite people you may not normally associate with into the conversation. Let them know you want to include their expertise in an important discussion to you and others in the company. This invitation allows for an honest discussion with diverse viewpoints. Lastly, if they are not ready to participate in this discussion, let them go and be prepared to have the conversation when it is time.
Concluding the conversation, Deron gave students valuable steps to carve their careers in tech, including current trends in international student job prospects, digital networking strategies, and much more. Last but not least, Deron emphasized to students that your journey is your own. He encouraged students to take advice from professionals in the industry, but remember to carve their own path. In his closing words, he stated,
"I want you to be better than me and push the industry further than anyone can take it."
To learn more about CodePath and how we support underrepresented college students succeed in tech, visit www.codepath.org.